The stubbornly-unchanging Ram 1500 can't help but be admired for the iconic workhorse that it is
In the grand scheme of the automotive world, the Ram brand is actually still quite young. But the Ram 1500 matured quickly from its old Dodge days, like that one teen in the locker room who was sporting a mustache and chest hair before his peers had even undergone their voice change. It's never been subtle. It's never been a wallflower. And since the days that it sported a Dodge nameplate, the Ram 1500 has featured a distinctly different style than other pickup trucks: one that favored muscles over modesty, and praised an aggressive devil-may-care attitude far over the old-day common-sense practices of building out all pickups to look like classed-up farm trucks.
Only Ram was able to find that balance of workability and bombastic braggadocio that a small faction of the pickup truck community was looking for--and it's kept that polarizing commitment ever since Ram split off from its parent to be a standalone brand back in 2009. And whether you love it or you hate it, you have to respect it. That's just how the Ram 1500 swings.

A design that seems set in stone--but that's getting polished with age
The newest 1500 comes with small changes in the body, mainly in the materials that are used. There is more high-strength steel in the construction of the frame, box, and cab so that it can be stronger than ever. You might be worrying that this would weigh the model down, but Ram has included a lot of aluminum in the hood and tailgate to reduce the weight.
The overall design of the 1500 model isn't wildly different from the original styles that we saw on the Dodge Ram 1500 of old. For a vehicle that was so stubbornly successful it was able to become its own brand from a single model, that's not really too surprising. It is updated in terms of shape, becoming a little sleeker and more sophisticated, giving it the shape and design needed to be the most aerodynamic full-size truck.
While the modern lineup doesn't offer the iconic hood ornament that defined Dodge and Ram trucks two decades ago, it has managed to come up with an equally loud option: massive RAM lettering on the tailgate and the grille for many of its models. Unlike the hood ornament, which only announced its arrival, these new design features scream its approach, its advent, and its departure, leaving the watcher feeling some combination of judgment, envy, and culture-shock.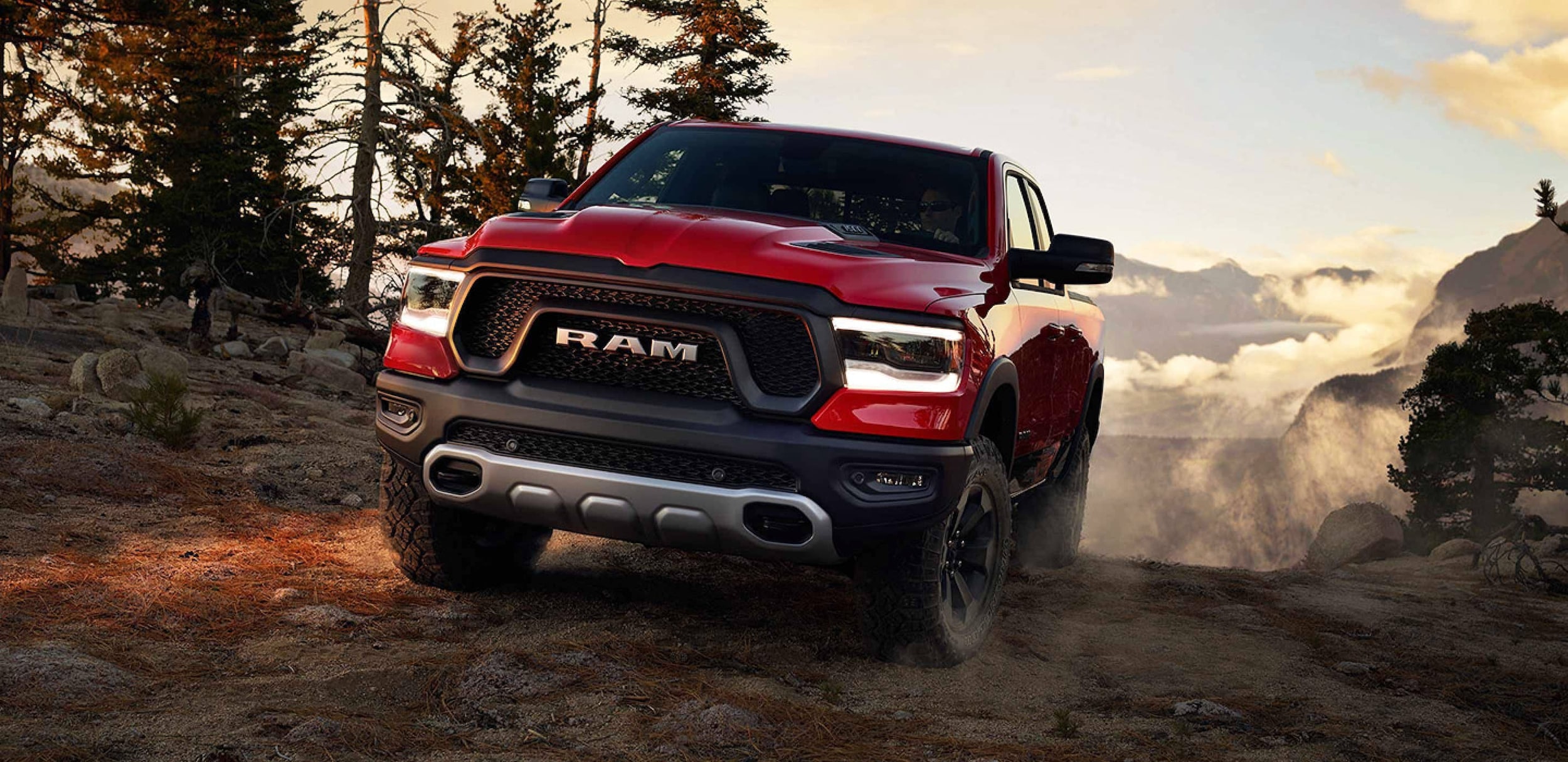 Configurations to fit any lifestyle. Seriously.
We can begrudgingly love the Ram 1500 for its insanely massive range of options and configurations--even as they make some shoppers gloss over and start to tune out, faced with so many potential combinations. The current lineup delivers nearly fifty potential combinations of cab style, bed length, engine, drivetrain, and trim level--and that doesn't even begin to get into color. The Ram 1500 can be had in Crew Cab with a 5'7" box, a crew cab with a 6'4", or a Quad Cab with a 6'4" box.
The 2019 Ram 1500 brings you a variety of trim options, including the Ram 1500 Tradesman, 1500 Big Horn/Lone Star (the Texas-exclusive version), 1500 Rebel, 1500 Laramie, 1500 Laramie Longhorn, and the Ram 1500 Rebel, making sure you have enough options to find the one that is perfect for your needs. There are an equally as impressive amount of colors, including Bright White, Maximum Steel, Rugged Brown, Diamond Black, Black Forest Green, Blue Streak, Billet Silver, Delmonico Red, Patriot Blue, Granite Crystal, Flame Red, and Ivory.
No matter what your work needs, driving needs, or personal style preferences look like, there's one configuration among the hundreds of potentials that will likely make you happy.

Engine power that offers full competence with an aggressive snarl
People choose the Ram 1500 for many of the same reasons others choose sports cars: they are loud, unapologetic, and in-your-face. And no matter which engine you choose to equip the new Ram 1500, it delivers on its promise of ultra-masculine grunts and unnecessarily speedy highway passing. The 3.6-liter Pentastar V6 makes 305 horsepower and 269 lb-ft of torque, and comes standard on most models, it being the pride of FCA (who can remember the original Pentastar? Bonus points if you actually drove a vehicle with the Pentastar on it), but comes with a little difference. The new engines have eTorque technology to improve efficiency and capabilities. The eTorque technology widens the torque band in low RPMs, making sure you can get power when you need it the most: starting up.
If you want or need more, you can also opt for the 5.7-liter HEMI V-8: the official, rip-roaring, hair-raising mascot of drivers who need to frequently tow heavy loads. The HEMI V8 is seriously fun to drive, and your fuel economy won't really take that hard of a hit. Upgrade away for 395 horsepower and 410 lb-ft of torque. You can get eTorque technology on this engine too. This engine allows you to get a towing capacity of up to 12,750 pounds - best-in-class for V8 towing.
Know what the people want: chrome, connection, and comfort
Chrome. It's a top feature of pickup trucks, and Ram doesn't ignore that fact. It's why every year, more and more of their models and special-edition trims are dripping in it, from the grille to the tailgate, cab steps to wheels, and sometimes even in the cabin. But hey--Ram knows their audience. Those fine finishes aren't working to cover up an inadequate level of quality elsewhere, though, like some other pickup trucks try to do. Even the base Tradesman has a pretty comfortable interior, while upper-level trims like the Limited, Laramie, and Longhorn bring some of the most luxurious features that you can think of.
A standard five-link coil spring rear suspension and an available air suspension gives the Ram 1500 a uniquely comfortable ride quality--something that not every truck can similarly offer--that helps you feel more like you're driving a premium SUV than a pickup. Features like FCA's intuitive and user-friendly Uconnect infotainment with GPS navigation from a 12-inch touchscreen, premium audio, and even a WiFi hotspot for those who want it, help keep the driver connected in and out of town, and the 1500's class-exclusive and redesigned RAMBOX cargo management system helps this truck to stand out even further in its class.
Ram talks a big game--can they follow through with the Ram 1500?
You've probably seen Ram's two most recent brags:
"Fastest-growing truck brand in America."
"Longest-lasting pickup trucks in America."
We're not one to go up against claims like that, which are backed up by sources from somewhere, we will point out that, when you've been a brand for less than a decade, it's not hard to be the fastest-growing. To their credit, though, the recent models within the Ram 1500 lineup are making an honest effort to be more appealing, a better value, and a more comfortable, more enjoyable ride for drivers who may not be the typical "truck buyer". Those conquests for the market of casual truck drivers, away from brands like Ford, Chevrolet, and Toyota, are helping Ram to secure higher sales numbers for the Ram 1500.
Again, whatever you feel about this truck that oozes bluster--you have to acknowledge its ever-forward progress.

Wrap up on the Ram 1500: what makes it a good truck for Provo buyers?
Pickup trucks aren't known for their refinement; in fact, they're more often known for causing back problems, being littered in farm-dog hair and dirty fast food wrappers, and for emptying the wallets of their driver at every gas station and with every break-down. But Ram appears to be working hard to change that viewpoint, by cranking out lavish, chrome-coated ultra-luxury boats that capture the attention of macho supervisors who are looking to spend their bonus checks.
If you're a blue-collar worker, who's looking to actually use their truck for towing, hauling, commuting, carting kids around, and generally getting your hands dirty, you'll likely choose a more practical option, like the Crew or Quad Cab Tradesman, which is well-equipped for the price, or maybe the stylish--but not ridiculous--Big Horn. If you like the frat-boy-with-a-trust-fund look of the Laramie or Limited, though, you won't be disappointed in what you get. The Ram 1500 is fun, it's comfortable, it drivers more like an SUV than other trucks, and it can be affordable if you stay down in the base-trim range.
Guts and glory may be less accurate than something like style and swagger, but we can respect the name that the Ram 1500 has made for itself.