The Ram 2500 is Ram's heavy duty work-ready truck. Like the other models, it comes in various trims. Here, we compare the Laramie trim with similarly priced trucks.
2016 Ram 2500 Laramie vs. 2015 Ford F-250 Lariat
Exterior - The main differences is that the Ram comes with a driver auto-dimming mirror; the Ford does not. They both have fully galvanized steel body materials.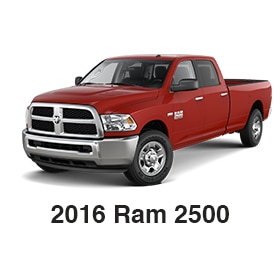 Interior - The Ram 2500 Laramie comes standard with heated seats while the Ford F-250 only offers the option. Another interesting difference is that the Ram has tire-specific low tire pressure warnings while the F-250 comes with generic warning lights.
Mechanical - Both vehicles are close in horsepower and torque and have V-8 engines.
Safety - For their vehicle immobilizer system, the Ram has sentry key and the Ford F-250 has SecuriLock.
2016 Ram 2500 Laramie vs. 2016 Chevy Silverado 2500HD LT
Exterior - The Ram 2500 comes with driver- and passenger-side turn signal indicators on the mirrors. This is only optional on the Silverado. The Ram has fully galvanized steel, the Chevy Silverado has galvanized steel/aluminum.
Interior - The Ram 2500 comes with 8-direction driver seat control. The Chevy Silverado has 4 directions. In the 2500 Laramie, the seat upholstery is leather. In the Silverado, the upholstery is cloth.
Mechanical - The wheel diameter on the 2016 Ram 2500 Laramie is 18" while the Silverado 2500 is 17". The horsepower in the Ram is 383; the Silverado is 360 hp. The wheel width on the Ram is half an inch wider than on the Chevy Silverado.
Dimensions - The Ram 2500 has 3 extra inches of hip room than the Silverado.
2016 Ram 2500 Laramie vs. GMC 2500HD Base
Exterior - The 2016 Ram 2500 Laramie has halogen headlight beams while the GMC 2500HD comes with high-intensity low/high beams.
Interior - There are many differences between these two trucks. The Ram comes with an extra LCD monitor and power outlet. The Ram also has 10 speakers while the GMC has 6. The Ram 2500 also has power driver seats. The GMC has manual seat adjustments. Finally, the 2500 has speed-sensitive volume adjustment while the GMC does not.
Mechanical - The 2500 Laramie has an 18" wheel diameter; the GMC has a 17". Also, the Ram has 383 Horsepower while the GMC has 360 hp. There's also 20 extra pounds of torque in the Ram 2500 Laramie over the GMC 2500.
Dimensions - There is 3 extra inches of hip room in the Ram than the GMC.