2016 Jeep Grand Cherokee
The Jeep brand is known for their durability and no-frills vehicles like the Wrangler. However, the Grand Cherokee is a strong blend of the heavy-duty nature of the Wrangler while providing the class and luxury desired by many. They spared no expense on the creation of this vehicle so that it can go toe-to-toe with the competition.
2016 Jeep Grand Cherokee Laredo vs 2015 Nissan Pathfinder SV
Exterior - The Grand Cherokee comes with heated mirrors that help melt snow and ice during the winter. It also comes with a rear spoiler / lip while the Pathfinder has neither if these. The Grand Cherokee also comes with delay-off lamps, daytime running lights, and perimeter approach lights. The Pathfinder doesn't have these features.
Interior - Standard features in the Grand Cherokee not in the Pathfinder include proximity key, window control express up, and rear seat armrests.
Mechanical - The Grand Cherokee has 293 horsepower and the Pathfinder has 261 hp. The drive type in a Pathfinder is rear-wheel drive. The Grand Cherokee is four-wheel. The Jeep also comes with an 8-speed transmission versus the Pathfinder's 5-speed.
Fuel Economy - the highway mpg is better on a Grand Cherokee by 2 miles more per gallon when compared to the Pathfinder.
Dimensions - The fuel tank in the Cherokee is 25 gallons while the Pathfinder is 21.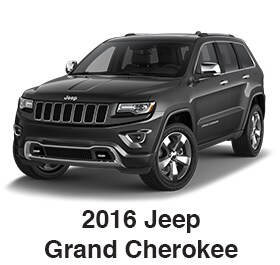 2016 Jeep Grand Cherokee vs. 2015 Toyota Highlander LE
Exterior - The overall design between the two is very similar. The main advantages the Cherokee has is perimeter lights, front fog/driving lights, and LED breaklights.
Interior - Some standard features that the Grand Cherokee has that the Highlander doesn't is a compass, oil pressure gauge, illuminated glove box, rear armrest, and the front passenger seat folds flat.
Mechanical - The Grand Cherokee has a 3.6 L engine while the Highlander has a 3.5 L. As such, the Jeep kicks out 295 horsepower while the Highlander sits around 270. The Cherokee is also an 8-speed transmission while the Highlander is a 6-speed making the acceleration smoother in a Cherokee.
2016 Jeep Grand Cherokee Laredo vs 2016 Honda Pilot EX
The interior and exterior of the Pilot and Grand Cherokee are both very similar in feature and function.
Interior - The Jeep Grand Cherokee comes with Uconnect w/Bluetooth and the Pilot has Bluetooth HandsFreeLink.
Mechanical - The Grand Cherokee comes with a 293 horsepower engine. The Pilot is 280 hp. The wheel width on the Cherokee is also larger for more traction.
Dimensions - The Pilot has a 19-gallon tank while the Jeep has a 25-gallon tank. Less filling, more driving.